Wherever I've lived, I've always wanted to be someplace else.
Growing up in Midwood, Brooklyn, I dreamed constantly of exploring exotic lands. I remember imagining that my postage-stamp backyard was a jungle where I might at any moment come upon a snarling jaguar or agile monkey. Climbing our big magnolia tree and turning over rocks and flagstones, I felt like I got to know every bug that lived there and every bird that passed through.
I took more far-flung journeys in books: The Mysterious Island, The Lost World, any novel that took me to places like Mars and Middle Earth. I also devoured every nonfiction book of travel and adventure I could get my hands on. (Gerald Durrell's My Family and Other Animals, describing his childhood roaming free on the island of Corfu, was a favorite.)
When I began my writing career, I finally had my chance. Focusing on nature and the environment, I suddenly had the resources to travel to the distant lands I'd long dreamed of. A few times each year, I got to wake up where the air smelled new and the light looked different, to see the creatures that inhabited the world's deserts, rain forests, and tropical oceans.
I thought I'd be living like that forever. But then, of course, the world changed, and like everyone I found myself stuck close to home. Once again, as during my Brooklyn childhood, my horizons shrank mostly to the flowers, trees, and rocks in my yard.
And, just as I'd done then, I started to check out those flowers and trees and turn over those rocks.
*
The first place I explored was our new pollinator garden, which in this season is swarming with an astonishing variety of butterflies, bees, and other little creatures, most of which I'd never even known existed till now. (Thanks to the invaluable Seek smartphone app for my ability to put names to them.)
Perhaps the most striking current inhabitants of the garden are the bees and wasps. (I never knew so many species lived around here!) The huge purple-black and black-and-orange wasps with ever-flickering wings are Great Black and Great Golden Digger Wasps. Smaller but just as vivid are the Blue-winged and Noble Scoliid Wasps, whose most distinctive markings are the bright orange-and-yellow patterns on their abdomens. Then there's the one with perhaps the most descriptive name in waspdom: the Four-banded Stinkbug Hunter Wasp.
Like the spectacular—and unnecessarily feared—Cicada Killer, all of these fascinating wasps are parasitic, stinging and paralyzing a variety of insect prey to feed their young. They're all also unaggressive towards humans. I'll be writing about them, and parasitism in general, in more detail soon. 
Among the bees, the constant presence of honeybees shows that there must be hives nearby, though I don't know where. Familiar Common Eastern Bumblebees bumble around, as do rotund and shiny Eastern Carpenter Bees. And I'm always on the lookout for rarer species like the Black-and-Gold and endangered Rusty-patched Bumble Bees. (These last two are typically found on grasslands or prairies, so are much less likely in my yard than in the restored grasslands of nearby Croton Point Park. But you never know if you don't look.)
And the caterpillars and butterflies! Of course we've had Monarchs around our butterfly weed and Black Swallowtail caterpillars on our fennel. What has especially intrigued me, however, are the less well-known species, ones I'd hardly ever noticed but now watch out for. They come with such evocative names as Summer Azure, Eastern Comma, Cloudless Sulfur, and the small, subtly beautiful Grey Hairstreak.
The Hairstreak, one of my favorites, has evolved a brilliant defensive technique: It can wiggle tiny "tails" on the backs of its wings independent from the wings themselves. Why is this brilliant? Because predators, mistaking the wiggling tails for the Hairstreak's antenna, attack the back of the butterfly's wings instead of its head, giving it a much better chance to escape.
All this is richness enough, and I haven't even mentioned the moths (I recently found a gorgeous Delicate Cycnia resting under a winterberry leaf), the gaudy Milkweed beetles, or the Ruby-throated Hummingbirds sipping nectar and American Goldfinches checking out the coneflower seeds. Taken together, the abundance and diversity of life on our Brooklyn-sized postage stamp is astonishing.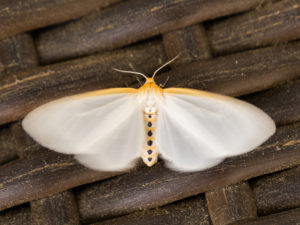 *
I will never lose my desire to travel. When the world finally and truly reopens, I know I'll be out seeking new light, new air, new birdsong. But I will also never again forget what I knew as a child and was forced to re-learn this year.
There is a jungle out there. To see it, you just have to take the time to look.  
Copyright © 2021 by Joseph Wallace